IOFM is a Non Profit Making Organisation
( Registered Medical Practice under Private Health Service Regulation Council of Sri Lanka )
Our Vision
Our vision is to achieve a state of complete physical, mental and social well being for the citizens, not merely the absence of disease or infirmity, but attainment of the highest possible level of health.
Our Mission
Providing evidence based and cost effective Health Care to the public.  Engage worldwide health professionals, charities and organizations in this mission to participate in delivering Healthcare Service, Education, Training and Research activities.

SERVICES
At Institute of Family Medicine, We offer Medical and Dental Services. This Practice beautifully and strategically located at the heart of the Jaffna Town. Jaffna Public Library, Judicial Court and General Hospital are in our neighbourhood. We are in the catchment area of 6 major schools (Jaffna Central, Vembadi Girls, St Patricks, Holly Family Convent, St Jones and Chundiukulli Girls) and many other primary schools.

FACILITIES
At IOFM we are equipped with Father David Conference Hall. This can cater up-to 150 audiences. In addition there are two more lecture halls with the capacity to cater 50 audiences each. All of these venues are equipped with the state of the art audiovisual technologies with WiFi Internet availability. We also have accommodation facilities with air condition to cater the visiting academics.

L

EARNING
We offer courses in emergency care (CPR). This centre is equipped with skill lab which can simulate various specialities settings for both undergraduate and postgraduate medical education. Basic IT training and Linguistic studies are offered. OBAs and medical charities are encouraged to use this centre to engage in research and learning activities useful to the community.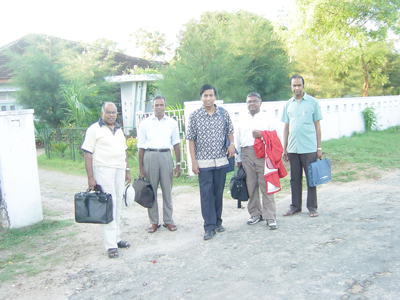 About US
Institute of family medicine known as IOFM, is a non-profit making private health care organisation, registered under the Private Health Service Regulatory Council in Sri Lanka.
In 16th of April 2005, the International Conference on "Evolution of Family Medicine in Sri Lanka" was held in the University of Jaffna. This event marked the day of Inauguration of Institute of Family Medicine at 125 Main Street Jaffna.
This event was sponsored by the Medical Institute of Tamils (MIOT) and supported by the College of General Practitioners Sri Lanka (CGPSL) and Department of Community and Family Medicine (DCFM) – University of Jaffna. Eminent Family Physicians from the UK and Sri Lanka were in attendance and shared their vision to establish and augment the concept of Family Medicine according to the Alma – Ata Declaration.
The World Health Organisation's  Alma-Ata Declaration states that "there is a need for urgent action by all governments, all health and development workers, and the world community to protect and promote the health of all the people of the world." It was the first international declaration stating the importance of primary health care and outlining the role of governments and their responsibilities to the health of the world's citizens.
Dr Liliana Risi says about Family Medicine
Family Medicine is being practised in large parts of the world by doctors of families and by us as general practitioners in North East London.
Individual family members are involved with one another in multiple ways: they communicate; they influence one another and are interdependent at times of illness and health. Growth and development of the individual family members are modified by the family system.  As GPs we make observations of families at the surgery or at home visits witnessing the climate and interaction both within the family and within the social context to better understand trajectories of health and illness. No other doctor looks after the same members of a family, in its widest definition, in the way in which we do. Healthy families make for healthy neighbourhoods, communities, cities and nations. New discoveries in medicine and technology must not distract us from the practice of family medicine, which Kenneth Lane calls the 'longest art' because we provide care from 'cradle to grave' keeping families well. This is the basis of what makes our work meaningful.
Dr Liliana Risi
North East London Faculty Chair